With the holiday season coming to an end, it's time to think about getting back on the normal day care schedule. But what to do with the pile of new and old gifts that your child has surely accumulated through the season? Don't throw them away! The season of giving need not come to an end so soon and Decide on Day Care is here to help!
This is a great opportunity to set aside the old books and toys that your child doesn't play with anymore. You can also clear out items that are too "young" for them and set those aside.  Lots of other parents would love to have your child's gently used toys and books.
You have some options regarding what to do with these items. Make a quick list of what you have available to give, and drop it off with your daycare provider. They can let you know if they want some or all of the items, and they can mark on the list which ones the day care could use.  They may or may not want anything that you have collected, but they'll be touched that you thought of them.
Kids are fickle and often forget about what they have.  They often never know an item is gone. For younger kids, probably three and under, you can go through their old things when they are napping or late at night when they are in bed. This helps to avoid many of the strange fights you are sure to have over a toy your child forgot they even had! You can put the items aside for awhile, and if they ask about it, it can be retrieved. After a certain amount of time, you'll be able to get rid of the items.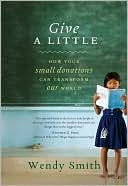 For older children, going through their old toys is an excellent opportunity to teach them about giving and what it means to give to others.  Pull out a bag and explain to them that they are running out of room for all of their toys and there are others that could use them more.  Make sure they know that they are giving these away and they will not see them again.  Help them with process of thinking about a certain book or toy, and ask them questions about the toy: When was the last time you played with this? Do you think another little boy or girl will play with it more? These are important analyzing skills and will help them their whole lives!  Make sure to praise your children for their selfless acts and generosity.  This small activity can really  bolster the strong and important traits we want in our kids.
This is a great thing to do for new and old toys, and duplicate toys, books and games that you are bound to get.  You may even repeat this process during their birthday or other special events where they may get an influx of new things.
If your day care provider or the local child care centers do not want your donations,  save them and give them to a local charity.  You will be doing a great service for the families and  children in your area and is much better than any of this ending up in a landfill.
If you give these items to a charity, save the list of what you have donated. Everything you donate is tax deductible and it can be fairly surprising how simple donations like this through the year can really add up.
You can even take this one step further and as a parent go through your own things.  Show your child that you do the same thing you asked them to do. It shows them that you enjoy giving to others as much as you enjoy their choice in giving.
For more great tips stop by Decide on Day Care's Parenting Tips section!