Summer is in full swing and it is important to keep your children safe both at daycare and at home. The best way to keep them protected from the heat and sun is to have great hot weather habits yourself! Your children want to emulate everything that you do and this includes how you prepare to spend time in the sun, what you do in the sun, and what to do after you have come inside out of the heat.
There are both short term and long term health issues when a person gets too hot, gets sunburn, or spends time outdoors without eye protection. It should be a rule at home to wear sunblock, sunglasses, and a hat whenever you go outside.
Many parents are shocked when they see my young children with their sun gear on. Even strangers ask how I get my children to wear their sunglasses and hats. It's simple: If they want to play outside, they must have them on and keep them on. There is no debate, there is no compromise. If they want to go outside and have fun, they must follow the rules. If they don't want to wear their gear outside, they will need to stay inside. Sure there are some struggles and fights with this, but now my children put their sunglasses and hats on without me even asking. If I say they can go play outside they tell me they can't because they don't have sunblock on. When you get to this point, it's much easier for you, and much healthier for them. And if they do it at home, they will do it daycare. And when they do it at daycare it is likely that the other kids will do the same and they will all have a fun, safe time out in the sun.
Preparing for the Sun
Sunblock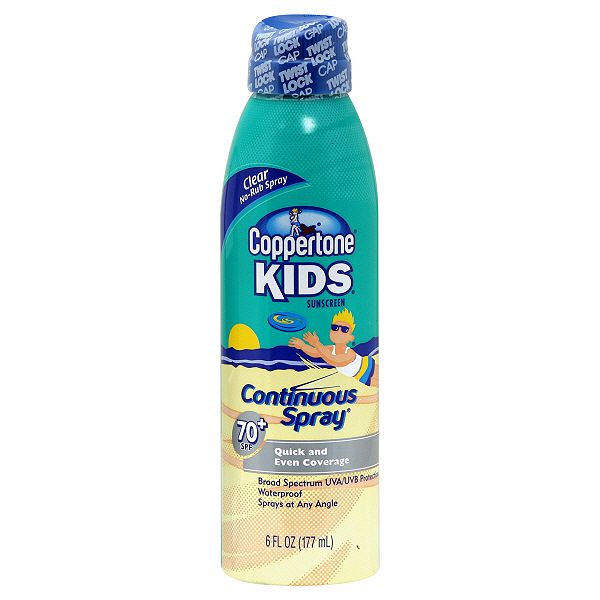 Sunblock is a must! Scientists have linked many health and skin issues to sun exposure: premature aging, eye damage including cataracts, and skin cancer. It's too easy to not worry about what will happen later in life but to take care of this threat now you are helping to teach your child good habits and possibly spare them much pain and suffering in the future.
A good rule of thumb is to use at least 45 SPF sunscreens. Anything less than that is not going to effectively block the sun, it will only "slow it down". Your goal needs to be to block the sun and to keep the sun burns and other problems away. Not only should you apply sunscreen before going out in the sun, but also every hour for each 15 SPF of the sunscreen. So for 45 SPF, you should apply sunscreen every three hours. If the children are swimming or doing other strenuous activities that might wear off their sunscreen, cut that time in half, and reapply much sooner. It is all too easy to forget about re-application when you're out having fun but it is very important to do.
Make sure to thoroughly cover all exposed skin, and get up underneath sleeves and pant legs a bit so the skin is protected when the child moves around. Make sure to apply sunblock to the ears and face, especially noses. Noses burn easily and ears are one of the most common places for melanoma.
Sunglasses
The age of your child will determine what kind of sunglasses they may want or need so take this into consideration. Infants and toddlers can wear goggle-like sunglasses. It can be hard to get them to keep them on but if you put them on and then distract them with a toy or something else, they may forget they are wearing the sunglasses. If you just can't get this young of a child to wear them, make sure they stay in the shade. By the time they can walk and run around, they are also old enough to learn to keep sunglasses on. For children a little older, take them with you to the store to pick out the sunglasses they want. This will get them excited about their own sunglasses and will make them eager to wear them outside. Be sure to pick up a few pairs as they will get lost and broken—it's just the nature of kids. You will also want to put a pair in your purse, in the car, at home and a few for your daycare. You don't want your child to go without protection for their eyes!
Hat
There are many different styles of hats, caps and other head wear. The important thing is to find something your child will like and use. With infants and toddlers it is a good idea to find a soft bucket hat with a brim, and preferably a chin strap to hold the hat on their head! When trying a new hat, use the same method as the sun goggles. When you put the hat on, distract them immediately with their favorite toy. Another useful trick is to have two of the same hat. Often they are not bothered by the hat they just want to see it and play with it. If you have a second one their curiosity may be satisfied. Hats for older children can be a lot of fun. Take them shopping and when you get their sunglasses also pick out some hats for them. Look for their favorite color or their favorite character. Make sure they have something they like and will want to wear. This will make it much easier to stick by the rules that everyone out in the sun must wear a hat. Sunburns on the scalp can be very painful and the top of your head is not something you can easily protect with sunblock!
Water
Last but certainly not least, every child needs to have their own water container to take with them when they go outdoors. Try to pick something with a closed lid, like a sippy cup or a travel mug. It is too easy to spill their water while they are playing in the sun. If you can add a few ice cubes they may really drink it up! Cold water will really help their bodies stave off the heat as they drink when they are playing. Beware that ice may be a choking hazard so keep in mind the container you are using and if the ice can slip through the opening.
Time to Play Outside
Now that you are ready, make sure to praise everyone on a great job getting ready to go outside. Tell the kids that they are ready to go with their sunscreen, shades and a hat. Have them grab their water and head outside. If the kids put their water in the shade it will stay cooler longer. Encourage them to take frequent breaks to drink water, and drink as much as they want. Let them know you will happily refill their water containers if they need.
Now have fun playing with the kids outside!
Next up we will talk about what how to handle your time outside and what to teach the kids.