Valentine's Day is coming up soon and it's important that you and your child are prepared for whatever your daycare may be planning. Often times daycare centers have big Valentine's Day celebrations with crafts, activities, and treats for the kids. Make sure you're prepared and your child is prepared for the fun day at daycare. It can be quite awkward for child to arrive to special days like this at daycare and not be prepared along with the other children. Missing out on Valentine's for everyone at the daycare or treats to share with them can be quite sad for your child and embarrassing for you.
Just as with other celebrations at daycare it's important to touch base with your provider to find out what they prefer to do for their own daycare's Valentine Day celebration. Depending on if you take them to a childcare center or an in-home daycare provider it is important to know what kind of celebration the children are going to have. Even if you have a nanny or a babysitter that watches your children just for a few hours, make sure that you are ready for this fun day.
Make sure that you child brings a valentine for everyone in their class at daycare. You might even make a couple extra ones just in case there is a mix up. Be sure to talk to day care provider to find out how many to make or get a list of all of the children so they can be addressed to them. When you approach your daycare provider about this information, make sure to touch base on what the Valentines Day celebration will be like and if there is anything you can do to help. You may be asked to bring some treats or something more specific for whatever the daycare may have planned for your children. Talk to them early to make sure you're ready because you're likely need to prepare some things for child ahead of time.
It's a great opportunity to talk to your child about Valentine's Day and why we celebrate those around us that we care for. It's a good time to reinforce the idea that selfless giving to others and the celebration of your friendship is what holidays like this are all about. Valentine's Day is not about getting candy, treats or little stuffed animals. Valentine's Day is about making a conscious effort to show appreciation for others. Continue to instill these types of values in your children and watch how quickly they grow up into wonderful people.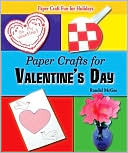 It is a lot of fun for the whole family to sit down and craft valentines for each other, those at daycare, and even those that might be in your office, workplace or neighborhood. It can be a lot of fun to pull out the crafts and come up with Valentine's Day cards for each other. Your children will love the time with you and you can help them make special valentines.
Be sure to have your child create a special Valentine's Day card for their daycare provider, teacher, nanny or babysitter. They will certainly enjoy the special attention from your child and will be touched to be included. This is the icing on the cake for life lessons and why we recognize each other and give without thought of receiving.